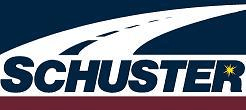 Schuster
Requirements
Driver Type(s)
Company Driver
Owner Operator
Benefits
Health Insurance
Vision Insurance
Dental Insurance
Life Insurance
Retirement Plan
Paid Vacation
Paid Weekly
Pickup/Drop Pay
Direct Deposit
Paid Orientation
Company Overview
Schuster
844-361-8543
Schuster was started in 1956 by Orville Schuster with a single truck hauling grain around Sioux City, Iowa. As Schuster grew Orville expanded the business to include refrigerated and dry van services. The name was changed from Schuster Grain to Schuster Company to reflect his expanding business. Schuster continues to be family owned and operated today.
Schuster features exceptionally well maintained late model equipment, LeMars Truck and Trailer shop with 10 bays for in house maintenance, an on site washday and Fuel Island, and 350 full and part time drivers and owner operators. Our staff also includes 10 dispatchers, 10 backhaul and customer support coordinators, and 20 office personnel. Orville's dream to develop Schuster into a premiere shipping company is being realized today as we are a leader in the shipping industry.
Call or Apply Today to Find Out More!
Contact Info
Schuster
2605 Lincoln Ave. SW
Le Mars, IA 51031
Phone Number
Recruiting : 844-361-8543